Your customers are leaving! Why
Before digging deep into exit-intent popups, let us talk about traffic and conversions first.
As stated in Hubspot's 2019 marketing statistics report, 78% of businesses across the world are unhappy (to put it mildly) with their conversion rates.
78% is a heart-attack number which begs one question: why so many of them came and then abandoned you coldly like that?.
We've got you covered. Let's take a look at the list of reasons why visitors leave your store below.
This list doesn't contain every cause, but it wraps up the most popular ones to give you the clearest sense of buyer behavior, which you may forget sometimes:
Visitors couldn't find the product they were looking for.
Your products didn't live up to visitors' expectation.
Customers are price sensitive and wait for a discount or coupon.
Customers found shipping price was too high when checking out.
Your brand pales in comparison with other stores. Ouch! >.<
Customers were just in the research phase didn't intend to take action yet.
Readers finished reading and were ready to leave.
The content was irrelevant to their interest.
Or simply, they got distracted and forgot :'(
So, how to keep their feet?
It's Exit-intent popups – the Hail Mary to capture visitors who are on their way out.
Come to think of it, exit-intent popups won't hurt your customer experience because it's all about benefits for those who choose to stay. And good marketers know how to make their visitors perceive a popup as a gift, a chance to achieve something great, or just a little amusement.
That makes so much sense as exit-intent popups are proved to increase conversions by 10%.
But how do you turn this exit-intent popup technique into a lead-generated machine? You need strategic and creative planning.
And here, after analyzing over 100+ stores which have leveraged effectively exit-intent popups, we bring to you 50 hacks to create the most highly-converted exit-intent popups ever.
Let us show you the findings.
50 exit-intent popup hacks that rock!
In this research, we divided those 50 hacks into 4 key elements which form the recipe for most phenomenal exit-intent popups:
Motivation
Copy
Design
Call to action
Ready? Let's start with the first category:
Element 1: Motivation – What to give away?
The ultimate reasons directly motivate your visitors to stay and do what you want them to do must be something they need or are interested in. So what and how to offer?
1. Last minute deal
As its name, this is a deal popping up right at the moment your visitors are about to abandon their cart.
This kind of last-minute offer works best when your prospects are procrastinating and wandering around other stores.
So, convincing them to change their mind by offering the discount code applying immediately to their current cart is really smart.
Saving the cart is never easier!
2. Free shipping deal
As Statista report, what puts your visitors off the most and make them bounce away when are on the check-out page is the shipping fee. Does it hurt?
For us, it's really a pain in the neck because they are so close to being converted, and then you lose them in a blink of an eye.
So, as the free-shipping offer comes out at the ripe time, isn't it such a wish coming true for customers?
Check out Globe In, they did a great job with their exit-intent popup:
3. Instant gift
Nothing sweeter than a sudden gift!
In this eCommerce, the gift/ deal is usually a big discount – the amount of money that decreases directly on the cart…. Customers are allowed to apply this deal sharp in their current shopping cart, not to wait for the next shopping order or have to opt in the newsletter before.
This deal works best with customers who are already interested in your items but still indecisive.
Take this popup below as an example. They highlight the sentence "We've given you 10$" to remind their escapees of the hot money they just have got. And boy, who wanna miss out money?
This instant saving of Frank+Oak is another example of a great exit-intent popup. They used power words like "Instant" and tactfully showed their respect to their buyers as saying: "That's how we treat our new guests!"
Smart move!
4. First-time customer offer
Just simple as its name, this is the offer is exclusively for first-time customers who haven't bought anything from you before.
This kind of exit-intent popup makes a real impact on new visitors. One reason: it makes visitors feel as the store owner cares about them and treat them very nice.
Let's see how KAY did it an regained their prospect attention:
5. Become a winner
Apart from just throwing the offer or discount code as usual, you can put a little bit of fun and competitive sense to your popups.
Just like GreatJoy did. They dare their customers to win there subscription box of choice and emphasize that new winners will be chosen every month.
So not just typing the email address to the box and done. Now they have to compete with other subscribers to win something for themselves. It's quite thrilling to think of.
Or take a glance at ISLE store to see how brilliant their exit-intent popup is when it can hold visitors back.
This kind of popup will trigger a desire for being the winner and then help you to drive more engagement.
6. Win all this
Just like the "Become a winner" popup, this "Win all these" popup deliveries the same message, but with more powerful impact!
One item vs all items (more than 2), no need to go into the details to know which one gonna rock your customer desire.
7. Jaw-dropping discount
Not to mention the first-time offer, the more generous you are with your discounts, the more visitors choose to stay and enjoy the whopping deal.
Normally, you just saw the 10, 15 or maximum 20% off the sales. But 40% like this one, GASP!, such an irresistible deal!
Just ask yourself as in a customer perspective, can you ignore this popup?
Small note: no one deny the effect of a big number, but you may want to carefully cross-check your budget as well before leveraging this hack. Make sure your budget allows you to give away generously.
8. Recommended related items
After adding some items to cart, there is something that sends your prospects off-putting, bad enough to make them want to leave all items added behind.
Or in some cases, there are hundreds of products on your store, that only a few minutes can't help customers find what they're looking for.
Next step, they're gonna move their mouse to the exit corner …
That's when recommended items popup comes in and stop them from bouncing. Just like this one:
If it's lucky enough, one of these items may catch their eyes and make them hesitant to leave. Hence, it'll increase a lot your chance of having them as customers.
9. Offer support in time
Someone may think it's odd and rare to leave the site when customers are on the check-out page. But a case like this still exists (a lot)!
As mentioned in hack #2, high shipping price is one of the most reasons for customers to leave. However, there are still tons of hidden reasons causing this situation and you don't want to customize exit-intent popups for each cause.
Stop the guesswork, just simply ask them for a call and show them the willingness to assist every time, like this:
10. Save the cart
We all agree that prospects leaving their cart for various reasons, but it all comes to an obvious conclusion that they just don't want those items at that point.
What's funny is that humans have a FOMO – fear of missing out. Therefore it makes sense when your prospects didn't intend to buy something but still couldn't stand to miss it at all.
That's giving an option of saving their cart like this exit-intent popup would please a lot of customers, not to mention the random gift included:
11. Remind them of review (cart abandonment)
Our behavior as customers seems to have the same pattern. We refer to the recommendations of others and trust the prior buyers' reviews much more than the hype or something the brands say.
And Thinx has tapped into it cleverly to prevent their prospects from leaving their cart. Unlike other shops using an offer, a discount code, etc, to sweet-talk their customers, Thinx just suggested them to check out the product reviews before going away.
And for those who were hesitating with their decision because lacking trust in this product/store, this suggestion was exactly what they need at that time.
Element 2: Copy – Game of words
Alright, the offer, deal, gift, etc itself can't convert those leavers into leads alone. It's the content making it more irresistible.
Hooked content with a sense of human is the backbone of a great exit intent popup.
12. Get to the point
A short and on-point sentence is always gold!
This exit-intent popup below tells its customers briefly the Why. This is really good because remember, they're hurrying to abandon you. Time isn't on your side!
So, why do they have to stay with you? The answer is clear: 10% off.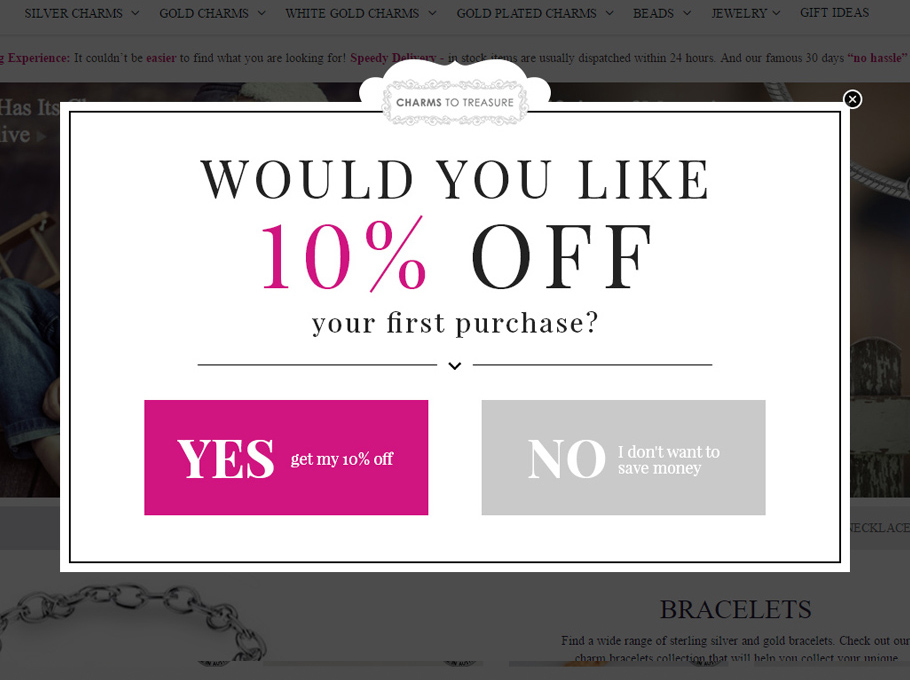 13. Use confirm shaming
Confirmshaming is a strategy of using visitors' guilt as leverage for paying attention a call to action.
Despite the fact that this technique bears some controversial opinions, it's still reportedly proved effective in increasing conversions. By using it nicely and creatively, you may direct your prospects towards the right way to be your customers/ subscribers.
As in Popular Mechanic's exit-intent popup, if you don't want to take their DIY guide, you're definitely an IKEA guy (who opts for convenience and fast-food solution)!
14. Using social proof
Social proof works very well because we tend to look to others in order to decide the "right" thing to do, don't we?
Over 100,000 readers can't be all the fools, right?
One thing to bear in mind, you should use your real data or at least the number close to it when it comes to social proof. If your number is small, you may want to consider other strategies or grow your business until it has something to show off proudly.
15. Credentials badges
A credential badge is a powerful tool that you can use to gain trust and conversions on your exit popups.
Do you have any special certifications or qualifications that can give visitors greater confidence in your authority and expertise? Bring that out on your exit popup!
16. Claim yourself confidently
Oftentimes, if you generate something really makes you proud of, you should show it off a bit. Barely anyone can resist an appropriate confidence.
So if you're creating something genuinely funny (or anything worth to read), let's claim your sense of humor and impress visitors with your boldness. Just like Kate Spade have done:
17. Trigger curiosity
If someone mutters to you: "Here's a secret I'm gonna tell you, but can you keep it?", do you feel curious? And I bet you can't help yourself thinking of what's behind it.
Well, we all do. Hence when a popup with a little mysterious like this one will stir our imagination and make us long to discover it:
18. Impress them with enormous numbers
Wanna convince someone? Ditch the flowery talk. Let's bring on the real data.
This smiley guy below didn't need to talk you into being his subscriber by promise something fancy. All he did was to trigger your curiosity (like hack #17) by saying he is jolly happy and impress you with his big numbers (10.000 copies sold, grow 300%, etc.)
And this is freaking smart!
19. Kindly ask for the reason why leaving
Sometimes, every effort you put in to keep your prospects' feet can be useless. In that case, just kindly let them express their reasons for escaping so that you can have the insights to enhance your website in the future.
Even if it's just a survey in the form of exit-intent popup, you should make the most of it to show visitors how careful and customer-oriented you are toward them.
Just as this one below:
20. Let them pick and choose
People love freedom of choice.
So if you're using an exit-intent popup to collect leads, it won't hurt (even better) if you add some options for your visitors to choose which topics they want to subscribe. This way make your store a thoughtful brand in their eyes, and decrease the chance of their leaving.
Like Jojo Maman Bebe did leverage it very well on their popup:
21. Power words
Power words are words that top copywriters use to trigger an emotional response. They're called "power words" because they are so convincing that people simply can't resist being influenced by them!
You could see a 12.7% increase in your conversion rates simply by dropping a few power words into your copy.
Also, power words have the same impact on exit-intent popups. Take a look at this one:
"Saving", "Wow", "Wide sale" are all power words. Combine with the whopping 30 – 70% discount, this popup must have driven sales as crazy!
22. Use imperative words
Imperative verbs usually sound a bit bossy in real-life situations, but when it comes to exit-intent popup, they are quite powerful and persuasive.
"Don't go!", "Stay with us!", etc, are all imperative verbs. They make visitors wonder why they have to stay, why this store won't let them go? And coupon code is an irresistible answer!
Note: Do notice that this popup also use the confirm shaming technique and the countdown timer to create a sense of urgency (see hack #43 below)
23. Sense of exclusive
This Uncommon Goods' exit-intent popup successfully used the power of scarcity marketing to trigger their customer desire for being prior and exclusive.
We deeply know that one of the reasons why scarcity marketing works is that it makes us feel like part of the "haves", which makes us superior to the "have-nots".
And being a part of an exclusive group makes us feel special, valuable and important. As we know that this "secret sales" is only announced to subscribers, chances are high that we will sign up for being one of those.
Another brilliant example is Scrapbook. Shhh… don't tell anyone that these sales are just for you, and you don't want to miss it out! (using FOMO)
24. Motivated question
This hack is simple. No one refuses to something positive, and we – humans are often full of hope.
That's why many of us follow Instagrammers, writers or bloggers who put on meaningful quotes. That's why if someone offers us some encouragement and hope for our lives, we think "why not?".
25. We hate spam!
Most of the time, visitors don't choose to leave their emails because they're scared to be bombarded by aggressive spam emails.
So if you actually make your visitors believe that your newsletters are pure helpable, fun or informative, you'll be surprised at the leads increase.
But, do it how? Just include a small sentence like "We hate spam!"
26. Add reviews to popup
In hack #11, we've already known that people will follow the actions of the masses. This behavior exists in almost every corner of life.
Slopestyle-ski has taken the most out of it and creates a very persuasive exit-intent popup to convert those were about to abandon their cart. Just by adding their customer reviews of those items on the cart:
27. Call out your customers
Oftentimes, when we want to catch somebody attention, we may try to do something silly, funny, strange, etc. to impress them.
Or much easier, we just need to call them out:). Exit-intent popups can speak out loud like this you know?
28. Personalize your popup
Personalization is key to making advertisements like exit popups feel less like an intrusion and more friendly.
One really smart and simple way to personalize your exit-intent popup is to call out your customers' name. As knowing that a store can remember your name and offer something relevant to your interest, you'll feel like you're respected and special.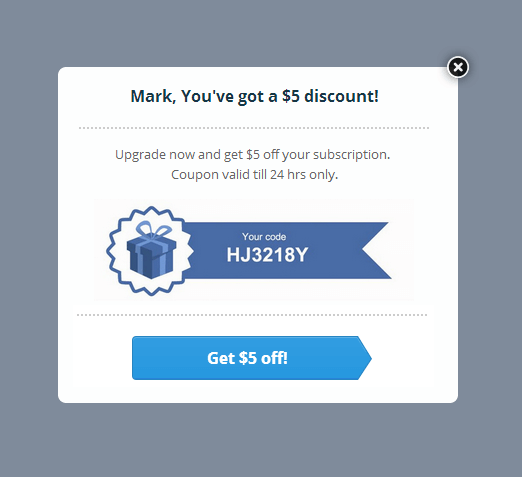 29. Sneak out the preview inside
Do you know why every movie always has its trailers published at first? Because it does great at stirring our curiosity by revealing a few most awesome scenes in only 1 -2 minutes.
The next time you want to keep your prospects feet by offering something like ebook, guide, etc., let's try leaking out a bit of what is inside. Just like this exit-intent popup did:
Smart note: This popup also contains some influential power words, such as "all", "free".
30. Self-assertive claim
Sometimes, proper boldness will make a big impact.
Take Atlanta Light Bulbs as an example. They confidently claim a controversial point: "This button may change your mind" to arouse your suspicion first (feel like a prophecy of a fortune teller)
Who is gonna believe it? Yes, no one. Hence their CTA:
31. Did you know…?
Did you know the best practice for an email subject is?
That's is what I've just done: ask a question.
Questions are a great way to focus your readers' attention and raise their curiosity. Questions also feel incomplete on their own.
The impact of it is also on exit-intent popups. You can use questions for your first lines on the popups. See how Consulting did and learn it for yourself:
32. Show reward levels
A single offer may not be encouraging enough. Then how about three of them with increasing money discount for each level of shopping?
Check out Golfsmith's exit-intent pop to get the idea:
33. Create an urgent sense
Procrastination is sadly a common phenomenon in eCommerce. Customers delay taking action and then they may forget it all.
That's why they need a deadline! They need to feel like they have to act quickly, otherwise, they lose their chance. (FOMO effect as well)
So let's try to set a limited time for your deal on your exit-intent popup, you may be surprised with the result!
Element 3: Design
The design and content complement well with each other to capture visitors attention at first, impress them then convey the motivation in an inspiring way.
34. When images coordinate well with the copy
Sometimes all you need to grab your visitor's attention is a striking (or funny, unexpected) image that matches up well with the copy.
We're talking about images, so let's take a look at these images of exit-intent popups below to grasp the idea: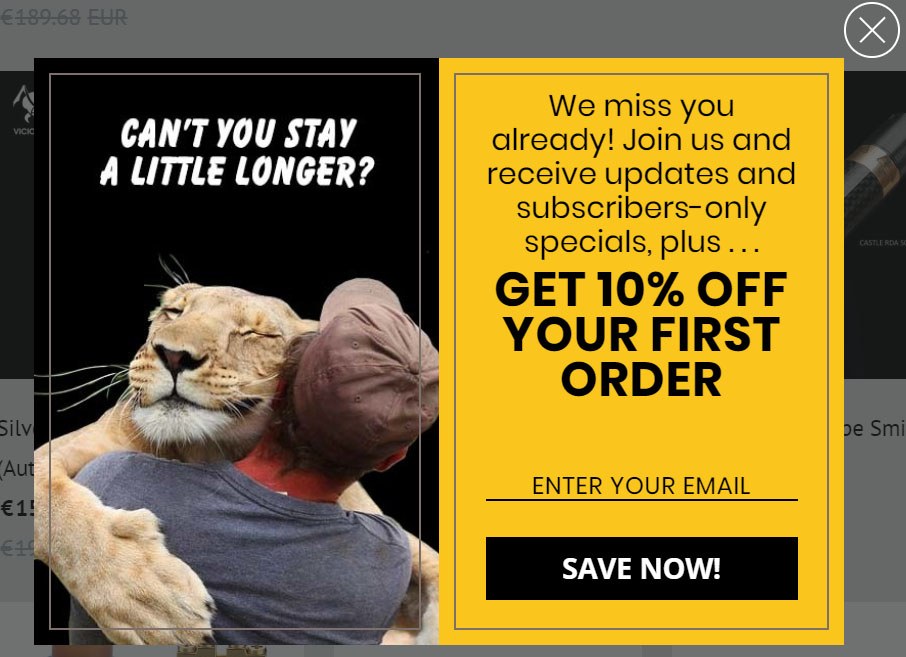 35. Win-wheel popups
It has been proven that a gamified popup impacts the engagement with your customers and influences their behavior much better than any normal lead-capture tools.
The reason is that a gamification popup, such as a Win wheel, makes the user experience more enjoyable.
So what is a win-wheel popup exactly? It's a coupon popup that let customers play a fun spin-to-win game. And you know what, this gamification tactic could double your email list!
Here are a few win-wheel popup examples that you may want to refer to:
36. Simplicity is pure beauty
One principle in design that may never die is: Less is more.
And here is the spirit:
37. Visual hierarchy
Visual hierarchy is the order in which a visitor processes the information on a page, like from head to bottom, left to right.
By assigning different visual characteristics to sections of information (e.g: larger fonts for headings), we can influence what users will perceive as being further up in the hierarchy.
As this exit-intent popup, it smartly guides readers toward the key messages placing in vertical head-to-toe order: "Don't leave me this way" →  "11% discount" → "STAYWITHME" → "Go back to shopping bag".
38. Get out of the formal (boring) rectangle shape
There are tons of ways to make an impression with your visitors, and the simplest one is to get creative with the shape of your exit-intent popup.
The common rectangle shape is boring? Try the hat-shape popup like this one below or anything coming up in your head.
39. Urgency bar
As scarcity and urgency marketing creates powerful impacts on eCommerce business sales growth, it continues to be leveraged on exit-intent popups.
Bootea has added some creativity with their Win-wheel exit-intent popup by placing an unusually striking bar. This bar showed that 98% of offers had been claimed, then warned their prospects to hurry or all offers would be gone soon!
40. Add countdown timer
Once again, urgency marketing comes in and claims their power on exit-intent popups.
We bet you have been familiar with various forms of countdown timers on product pages. Now you can put it on the exit-intent popup as well.
The real value of a countdown timer is in timing. You don't just want people to stay and convert. You want them to convert now.
Have a look at Blue Apron's popup to feel a sense of urgency they created:
41. Full-screen layer / Welcome mat
There's only one wonderful thing to say about a full-screen exit-intent popup: It makes the deal/ offer to be more clear and distraction-free (from  the background)
So what's the rush, let Training Mask show you why: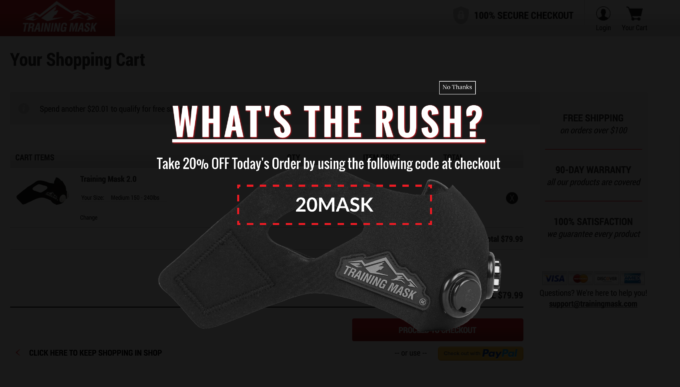 42. Leverage illustration
Illustration is a beautiful way of communicating with images whether it be a story, a message or a feeling. It helps create interest in new or unknown subjects and is good for holding people's attention.  
Whether or not you have an artistic sense, you may love to enjoy the attraction of an illustration. And so does your website visitors.
Just apply it to your exit-intent popups like Gingiber did and prepare your surprise at the number of leads collected!
43. Progression bar
There is a psychological trait which causes people to feel uneasy leaving things incomplete. It's called the Zeigarnik Effect.
In exit-intent popups, using Zeigarnik effect creates a state of "incompleteness" in your visitors' mind, which made them unable to let go of the next-step action (leave emails, save the cart…) until they did it.
So how to practice this effect on your exit-intent popup design? Let add a progression bar:
44. Display the items in their leaving cart
Besides the beautiful layer design, convincing & powerful copy, FOMO leverage, there's one thing which made Kate Spade's exit-intent popup a highly-converted one.
It's the exact images of the products that were already in the customers' carts. This unique hack gave customers a chance to review the items they were interested in but not willing enough to buy.
Then it also gave Kate Spade a chance to convert those hesitant prospects.
Element 4: CTA
In that moment of indecision, we can briefly interrupt them with a message, steer them towards an eye-catching call to action. This art of misdirection is incredibly successful. Why? Well, often users get overwhelmed. And when you provide them with a single option, it makes their decision easier.
The more targeted CTAs can be the better.
45. Facebook like button
Asking for an email address can be harder and harder: due to information bombardment, people tend to closely protect their emails these days.
Asking someone to follow you on social media, however, is much easier. It should be relatively simple to get an abandoning visitor to click the CTA "Like" or "Follow" button.
46. Social-proof CTAs
Change the normal CTA copy to the number of your subscribers/ customers is really a strange but great idea.
Because social proof, as we said above, is a dynamic marketing tactic for eCommerce.  People feel comfortable joining the crowd. So when you can make numbers play on your exit-intent popup's CTA, you can boost the click rates at ease.
47. First-person tone CTA copy
Download now!
Get it for free!
Subscribe!
…
These all mundane CTA copy are everywhere. It's what we speak to our users, what we expect them to do. And sometimes, poor CTA copy like those haven't performed well on the role of customer converters.
Next time, you may wanna test the first-person tone in order to generate a customer-related copy for your CTA.
Like this one:
So you may ask: why change?  
Well, the answer is simple: Marketing is all about human-to-human relationships. Keep carving it on your mind every day as long as you're still running an eCommerce store.
48. Facebook messenger leads
Facebook messenger CTA is a perfect alternative to opt-in email.
Why? As the trend of social media is far from dead, acquiring the prospect facebook accounts, to some degree, is way better than just getting their emails. It avoids the broken or fake addresses like with email and increases the engagement of customers. Isn't it worth to try out?
Let's see how Fashion Nova leveraged this Facebook messenger leads and made their CTA more appealing with the copy: "Send this to me":
49. Benefit-oriented CTAs
Benefit-oriented CTA is the more descriptive version of hack #47 (the first-person tone CTA)
The more descriptive you are about the action that you want your prospects to take and what they'll get by clicking that button, the better.
In this case, CTA needs to reflect a benefit, an action that your audience wants to complete. Just like this Elegant themes' exit-intent popup:
When prospects see this type of copy on your CTA, they don't read it as work. They read it as they're getting something in return (and who doesn't like freebies?).\
50. Confirm shaming CTAs
As also known as Negative CTAs, it can really help you achieve better performance on your website.
These have your readers second-guessing themselves so that they have no choice but to click on your offer. It's a psychological trick that can pay off, especially when done right.
Here an example for you to have a better understanding:
Get it off the ground
That's it for now! 50 hacks seem overwhelming at first, but it's integral parts making a highly-converted exit-intent popup. These are real lessons from real successful stores to learn. These are actionable tips that you can bring home and apply instantly to your store.
Next time, when you track your data, your jaw may drop a bit after seeing the increase in leads/sales converted. As the simple truth: exit-intent popups work! And business owners who know how to make the most of it will get the fruits sooner or later.